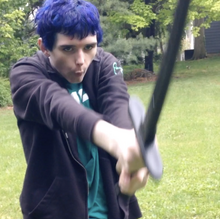 Lewis also known as Jellyfish is Scruh's left hand Goon, he is the highest ranking goon not including Scruh. He appears in almost all of Scruh's videos after his first appearance.
One day while Scruh was walking through the Goon Woods he noticed a strange bubbling in the creek, Scruh had just been snacking on some rambutans a rare delicacy to the goon's that is very seasonal. The rambutan fell straight into the center of the bubbling and the river began to glow brightly, from the bubbling depth emerged Lewis the Jellyfish Man, Scruh then tried to sell him rambutans for 3 times the regular price but he was not fooled and the ended up becoming good friends. He often cooks with Scruh and the other goons, his favorite thing so far was the Scallion Pancakes. He dislikes spiced sunflower seeds even though Scruh loves them, he also thinks it's gross that Scruh eats the shells.
One of his most impressive achievements was communicating with a group of Edge Lords with the help of Scruh and trading them a cooked fish head for cup of lemonade with some fruit.